Donor Appreciation Concert
California Rhythm Project donors are invited to join us for a FREE tap dance concert!
Saturday, November 18, 2017 at 4pm
Southwestern College Dance Studio (Room 615)
900 Otay Lakes Road, Chula Vista, CA 91910
Parking $3 in lot M or N
All ages will enjoy this sampling of our Rhythm Stew and Beats Without Borders educational programs. Seating is limited, so reserve your FREE tickets today!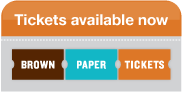 If you aren't a donor yet, but would like to join our family of sponsors and attend the Donor Appreciation Concert, you can donate online here.
---